Palmas del Mar
Once you cross Palmas del Mar's main gate, you can feel the beauty, peace and harmony of a well planned community.  Palmas is a 30 year old resort which encompasses 2,700 acres of land,  a very well orchestrated combination of residences, restaurants, 20 tennis courts, 2 golf courses, a beautiful Beach Club , a Country Club, a 500 students bilingual school, an equestrian center, a state of the art Marina & Yacht Club by the Caribbean sea, fishing boats, snorkeling boat, parks, an Pterocarpus forest, walking trails and Gyms and Spa facilities, among others amenities.



Palmas del Mar has been recognized as an award winning community for many of its environmental programs and initiatives such as the recovery of 80% of the used water and the creation of 200 cubic meters of organic fertilizer monthly to be used as a fertilizer for the golf courses and the landscaping, the solar lighting system in all the commons areas, streets and golf paths. The conservation of green areas as natural reserves and a joint effort between The Palmas del Mar Habitat Conservation Plan with the Puerto Rico Department of Natural Resources to protect the sea turtles.
Tennis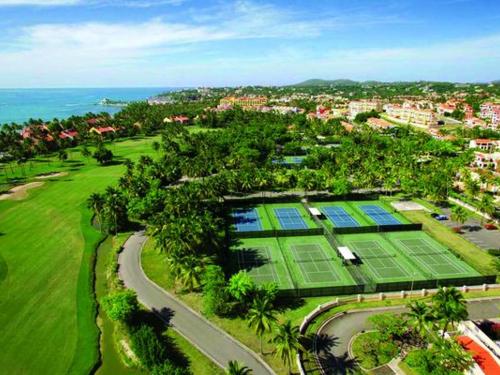 Palmas del Mar tennis facilities are the largest in the Caribbean! Twenty courts, those of which 14 are hard courts, 4 are har-tru and 2 omni courts plus nine of them are lighted for playing at night. At the tennis facilities area you also find a children's playground (including the surrounding trees kids love so much). On the other hand, the Center Court Bar and Grill, is a relax and tropical oasis with Sunday specials, happy hours and many activities for the whole family.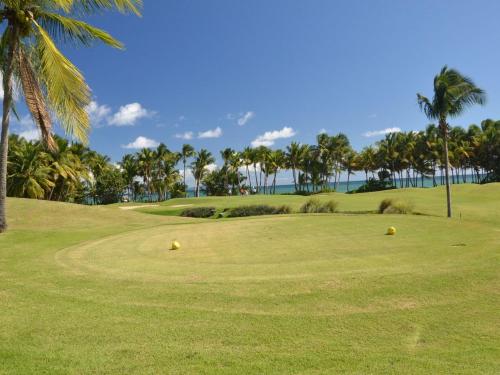 Palmas del Mar resort holds two state of the art championship18- hole golf courses dedicated to bringing you the finest golf experience possible. The golf courses are just gorgeous and kept in pristine conditions!!

The FlamboyánCourse, is an 18-hole championship caliber course – One of the most prestigious Golf Courses in Puerto.

The Palm Course 18- hole championship caliber course, offers a tournament-grade challenge to its players. It's also a beautiful course–a more mature golf course with older trees, wonderful lakes and exotic tropical landscaping.
HORSEBACK RIDING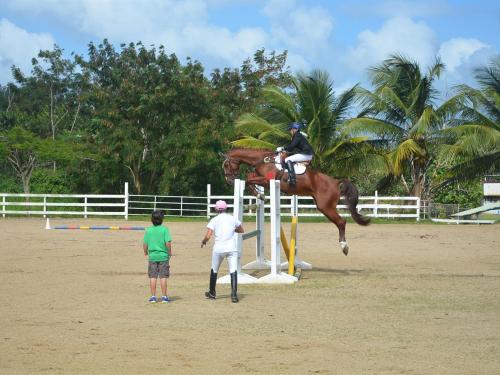 At Buena Vista Rancho, you can have a wonderful horseback riding among Palmas idyllic beautiful landscapes. "This are very different type of horses, this horses has to be very easy to ride. They are carefully chosen and we don't expose them to the general public until they are proven to be very submissive. Most of our "cabalgata' horses from Rancho Buena Vista has been with us for 10 years or more. "With all my experience I mistake my appreciation two our ot three times. Sometimes I think a horse is going to be good for cabalgatas and I proof myself wrong. That's why we don't expose them to the public until we are 100% sure", said Dr. Benítez,owner of Rancho Buena Vista .
THE PALMAS YACHT CLUB AND MARINA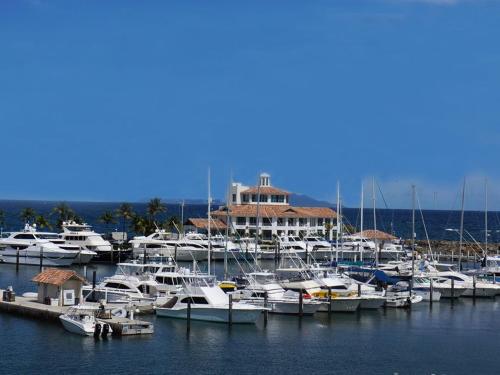 The Palmas del Mar Yacht Club is a state-of-the-art mega yacht marina. As an ultra convenient Puerto Rico marina should be, Palmas del Mar is just 15 miles from the Spanish Virgin Islands. Among other Puerto Rico marinas, PDMYC is marked by unspoiled fishing grounds, extensive gardens and lavish surroundings.
The Yacht Club is the only Marina in the Caribbean linked to a complete resort community. Come aboard and reserve one of the 152 slips designed to serve yachts from 50 to 125 feet long. The Yacht Club is also designed with side tie mega-slips reserved for transient mega-yachts of up to 175 feet.
THE PTEROCARPUS FOREST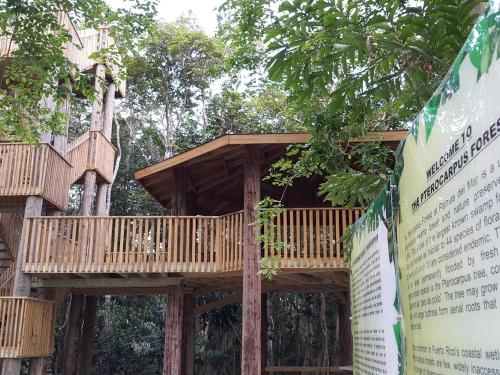 The Pterocarpus Forest at Palmas del Mar, a unique 51-acre Pterocarpus swamp forest nature preserve opened to the public in March 2013 with the installation of the its new beautiful Boardwalk were you can appreciate the trees as well as the birds and other little animals of the forest. This is the largest known swamp Forest in Puerto Rico and serves as habitat to 44 species of flora and 52 species of fauna, of which 13 are considered endemic. This Forest grows in an area permanently flooded by fresh water and its predominant specie in this type of wetland is the Pterocarpus tree, commonly known in Spanish as "palo de pollo". The tree may grow more than 65 feet tall, with large aerial roots that allow it to grow in flooded soil. A bird observation tower inaugurated recently for the enjoyment of Palmas residents and visitors.
PALMAS SEA SHORE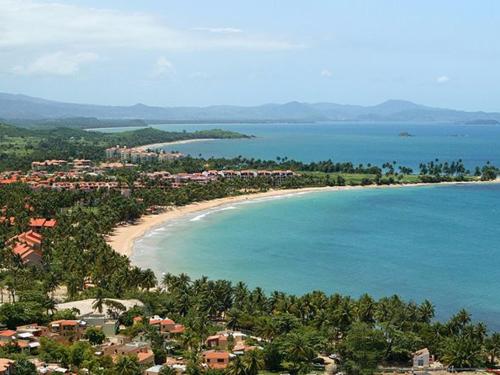 Palmas del Mar has more than 6 miles of Caribbean Sea shore and more than 3 miles of continuous sand beach were you can find from beautiful residential units to cozy bars and restaurants were you can enjoy the day and or a gorgeous sunset, or sunrise, is you are an early bird. (The sun comes out by the East and Palmas overlook the East perfectly, therefore the sunsets are spectacular as well as in the afternoon when the sun illuminate the sea and the shore. Breathtaking!
WEDDINGS DESTINATION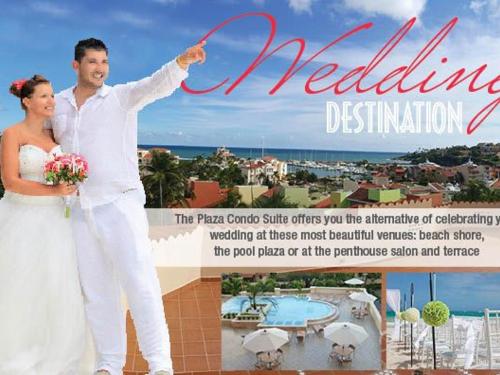 The Plaza Condo Suite offers you the alternative of celebrating your wedding at these most beautiful venues: beach shore, the pool plaza or at the penthouse salon and terrace with breathtaking views to the Caribbean Sea. Call us for a quote.
• Decoration • Catering • Music • Hair and make up arrangements • Photographer • Flowers and others details can be arranged upon request

Special room packages for wedding guests are also available.
THE PALMAS CULINARY OFFER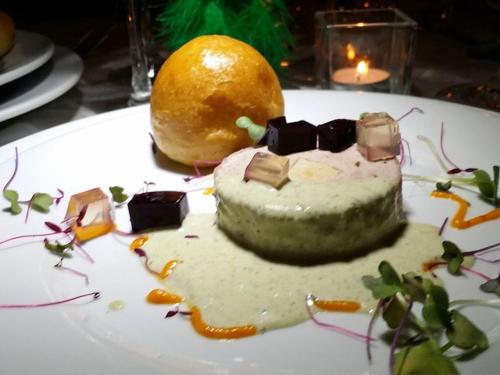 Palmas has more than 15 restaurants and bars were you can choose from. Or, visit them all! French, Asian, Mexican, nouvelle cuisine, Caribbean food, Creative cuisine, seafood…you find everything on a walking distance (if you are a good walker) but…if not rent a golf cart, it's a lot of fun! There are golf carts trails all over Palmas. For directions download the Palmas App –seepalmas, easy and handy.
YUNQUE NATIONAL FOREST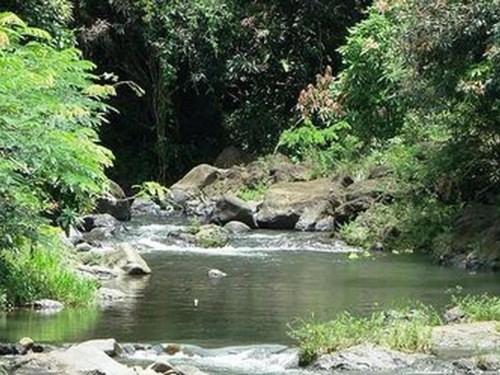 El Yunque rainforest. You'll discover an amazing world of nature trails, waterfalls, scenic views and the sub-tropical rainforest habitat of Puerto Rico's endangered wildlife. According to ancient Indian legend, the good spirit Yuquiyu reigned at El Yunque on his mighty mountain-top throne, protecting Puerto Rico and its people.